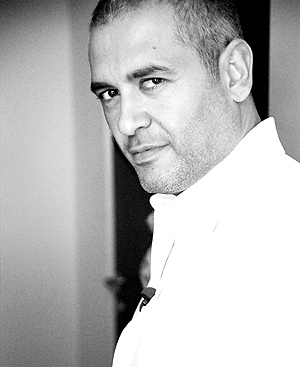 Este diseñador de origen libanés es uno de nuestros diseñadores preferidos sino el que más. Sus vestidos son espectaculares, precioso, increíbles… sin palabras! Tienen un toque especial y mágico que ningún otro puede alcanzar. Las clientas de Elie Saab son principalmente celebrities que lucen sus creaciones en los eventos más importantes. Y es que ha tomado el relevo de otros grandes como Valentino, Armani o Chanel en vestir los Globos de Oro y Los Oscars.
Descripción de la colección p/v 2001:
sedas, organzas y gasas. Tonalidades de verdes, azules, grises y naranjas, mezcla de texturas con la misma tonalidad resaltando aquellas con aplicaciones con lentejuelas y cristales, interesantes drapeados q dan volumen a la prenda q son principalmente en la colección siluetas rectas. Aún siendo predominantes los vestidos, este diseñador, también muestra prendas desde shorts, vestidos cóktail, chaquetas, monos de cuerpo entero… Lo que es siempre un acierto: mezclar las mismas tonalidades complementos (zapatos y bolsos) con las prendas.
This lebanese designer is not only one of our favourite designers but also the celebrity´s designer. He dresses famous actresses, models and singers for the most important awards : The Oscars and The Golden Globes. His dresses are beautiful, amazing…stunning! Follow him… will he once replace biggest names like Valentino, Armani o Chanel? What do u think?
Aquí os dejamos algunos de nuestros vestidos favoritos de la colección p/v 2011
You can watch here some of our favourite dresses of his collection spring/summer 2011: